# 002
INTRODUCING – FAVORITES – WALK THIS WAY – NEXT IN THE CITY – JOBS
WHAT'S UP IN UTRECHT?
U ARE HERE magazine is your bi-weekly online magazine about what's hot and happening in Utrecht. From the newest shops and most interesting (new) local entrepreneurs to upcoming events and tips from locals. This year Utrecht will host some huge events and we expect a lot of people coming over thanks to numerous articles about Utrecht the last couple of months. Lonely Planet, BBC and CNN, The Guardian (twice) have named Utrecht as a one of the world's undiscovered cities you should definitely visit, so we expect a lot of people to do so.
We would like to thank everyone for their positive reactions on our first edition and of course all who subscribed to the magazine. Remember we're doing this for you, because we love U!
INTRODUCING…
Utrecht has proven itself to be a thriving city with new shops and businesses popping up like mushrooms. In order to keep U up to date with the newest developments we'll be highlighting a couple of these newcomers every two weeks. So, who's new in town? Which stores have opened their doors for U?
KOFFIE LEUTE
Are you a coffee lover constantly searching for new places to get your caffeine kick? Here's another great spot to add to your list. This week Koffie Leute will open their Brauhaus at DRUK. It exemplifies the transition the
Oosterkade/ Westerkade
area is going through. Great new businesses have found their way to the Station Vaartse Rijn region. So why should you visit yet another coffee bar in Utrecht? Well filter and slow coffee could be one of the reasons. Koffie Leute focusses purely on these types of coffee. What is seen by most people as a new upcoming trend actually (in their own words) "…goes way back to the time of our grandparents." And this notion is reflected in their interior design. Walking into the Brauhaus is like a weird trip back in time, with all the lasted technology on the one hand, while the furniture brings you back to a time about 50 years ago. Enter the set of "That 70's Show". With the help of interior designers
Ge/Schikt
and antiques & oddities shop
White Whale
these guys have transformed this part the old printing shop to a nice cozy place to enjoy a cup 'o that liquid gold.
The Brauhaus opens this Tuesday, but they will celebrate the official opening on Feb 20th. We've invited them to the FunX Utrecht studios this Monday for an "U ARE HERE magazine invites …" interview, so if you're looking for an update from these guys themselves, tune in at 14:00 on Monday Februari 9th.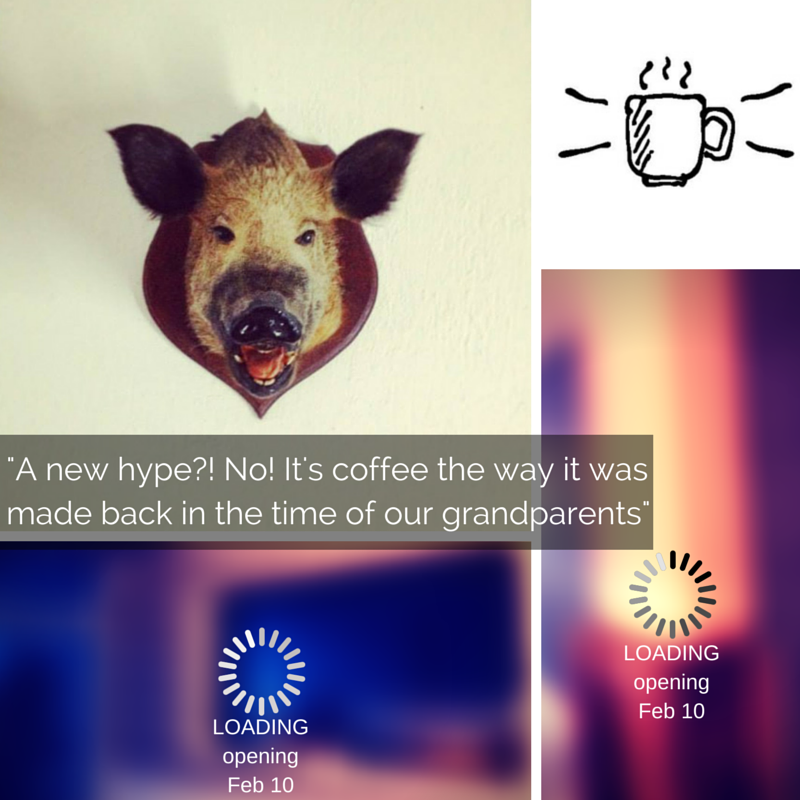 Get to know them >>>
Who: Koffie Leute
Where: Westerkade 30
When: Ma/ Mo – Zo/ Su
UPDATE! We've added the FunX Utrecht interview Koffie Leute did last Monday:


FAVORITES
These shops have been around for quite some time. Well respected businesses that have been responsible for the rise of interest in the city of Utrecht and made it special, since they're only here in our lovely city. To pay respect to them, we'll be highlighting a couple of them in each edition of the magazine. With all these new shops and businesses popping up, we should not forget these pioneers!
PLATO Utrecht
Record stores are still quite a unique type of business in a city since the emergence of online music stores and platforms. Thanks to the recent rise of interest in vinyl records, there's been a new move towards the classic hangout for music lovers. Plato Utrecht is one of those unique spots that music enthousiasts have loved through the years. So if you're looking for vinyl (both new and second hand), CD's, books, DVD's or concert tickets, Plato at Voorstraat 35 is the one address you need to remember. And be sure to check the
website
and/ or
Facebook page
for any upcoming in-store gigs. You might be in luck and meet your favorite artist up (very) close and personal.
Find out for yourself >>>
Who: Plato
Where: Voorstraat 35
When: Ma/ Mo – Zo/ Su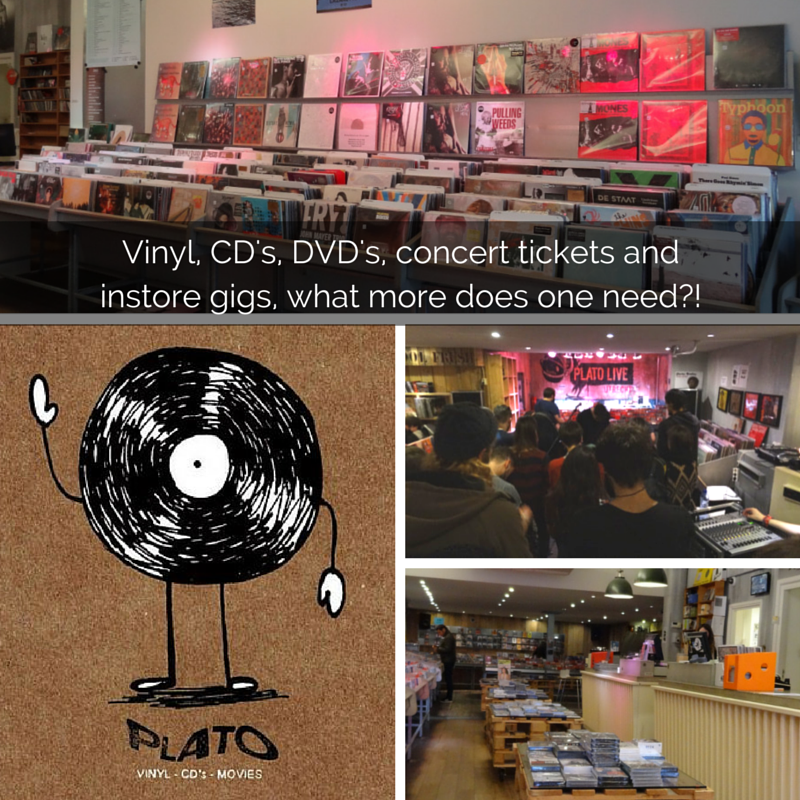 CAFÉ HET HART
As far as we know their open needles session "Open Naald" ("bring your own vinyl" night) is the first and only one in Utrecht. But what makes this extra unique is that the venue isn't a spot traditionally associated with music, it's a bar. But Café Het Hart is definitely a bar with its heart in the right place: They love art. Whether it's music through the speakers or art in their walls, artists from all around town (and the world if you ask us) will love this place. Great beers on tap, boardgames galore and centrally located at Voorstraat close to Neude square. DJ's spinning the freshest tunes at the monthly HART BEATS on Saturdays, Disco at Disco Volente and so much more…
Need more convincing? >>>
Who: Café Het Hart
Where: Voorstraat 10
When: Ma/ Mo – Zo/ Su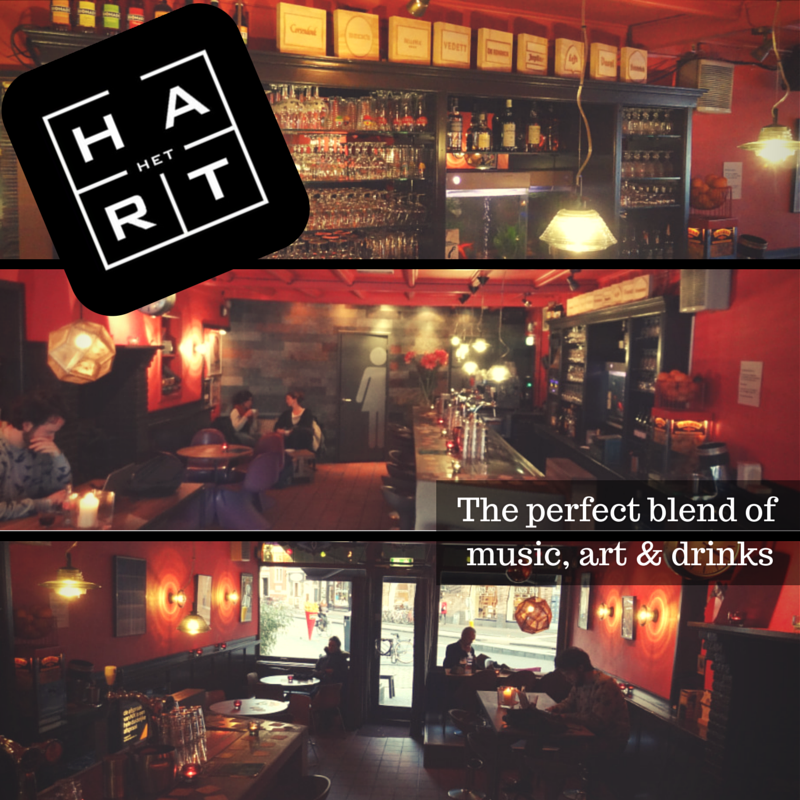 –

WALK THIS WAY

With so many hotspot areas around it's hard to decide where to go. So we're introducing a walk or area for you to visit. Easy does it. We use a theme, a special occasion or upcoming district to help you discover the real Utrecht. Yeah, that's right, no store chains here just independent businesses. A great way to discover the city.
U ARE HERE magazine x NEST Hoog catharijne
We'll be taking our goal to "represent Utrecht local business with love" to a whole new level next weekend (Feb 14th/ 15th) as we open up our "shop" in Hoog Catharijne. Thanks to NEST by SOON we're giving the opportunity to represent these locals in the heart of one of Utrecht's biggest shopping centers. We kinda feel like David fighting Goliath, Asterix vs the Romans, but it feels great.
Utrecht is home to lots of great initiatives, organizations and events. But rarely do they get the attention and exposure they deserve. Thus a lot of people miss out on great things happening and try to find their refuge in cities surrounding us. We hear the phrases "… there's not much to do in Utrecht" and "…what's there to be proud of in Utrecht?!" a little to often. And we'll be showing just why this claim is false.
This weekend we'll make it real easy for you. You don't have to travel from spot to spot to see what's there to be proud of. We bring it all together in NEST. Focussing mainly on those without a brick and mortar shop of their own or an online presence, we'll reveal a couple of great initiatives to U.
So come round and see what Utrecht has to offer you!
We're constantly on the look out for new businesses to add to our "Made in Utrecht" portfolio. If you're trying to reach a young creative audience and fit the overall image of U ARE HERE magazine, drop us a line.

ABOUT NEST
NEST
offers (local) entrepreneurs space and helps them to further develop their product or service. Next to their location at Utrecht Science Park, each weekend their shop at Hoog Catharijne is open for these businesses and give them a place to share/ sell their ideas and products.
At Utrecht Science Park NEST offers students and small businesses information through lectures and other events, like Kick-start Tuesday, Workshop Wednesday and Documentary Thursday.
So if you're looking for tips about running your business and/ or want to show your products to the world, find out what NEST can do for you, apply for one of their regular pitch days and who knows, you'll be opening a shop for a weekend in Hoog Catharijne any time SOON.

NEXT IN THE CITY
So what's up in the city of Utrecht? Any local events coming up, something going on that doesn't reach mainstream media outlets or a secret performance only we know about… Let's see what you could have missed out on. We're highlighting some of the events from the coming two weeks that we think should receive some extra attention.
While writing this second edition of the magazine we received great news. During the Valentine's Day weekend we'll be "opening" our own shop for the weekend! Thanks to SOON U ARE HERE magazine will be opening shop at NEST in Hoog Catharijne. Showing you first hand a great selection of local Utrecht products. Ever wondered who's behind the magazine representing Utrecht? Looking for great local Utrecht products? Be sure to visit NEST on Saturday February 14th and Sunday February 15th.
Sun, 8th Feb 2015
Launch online webshop Chia D.N.A.
After her move from Taiwan to study arts in Utrecht, Yu-Chia decided to set up her own business in 2D/3D design. Her products have already been available at Spring Stores in Utrecht and she'll be selling at De Kast in March. Today she'll be displaying and selling her designer products at Theemsdreef 382 to celebrate the launch of the webshop.
Wednesday, Feb 11th 2015
Paceshifters @ Eetcafe Stathe
If you're looking for great gigs for good price, Stathe Sessie is a great opportunity. Wednesday, rock trio Paceshifters will take the stage. Can U expect quality music?! Well being support for acts like Deep Purple, 3 Doors Down, Triggerfinger and Therapy… ehm hell yeah! (€ 6,50)
Kargajam: Open Jam Session @ Kargadoor
Listen or jam along with great artists from around town is this bi-weekly jam session at Kargadoor. Styles vary depending on artists present, so there should be room for you to play/ introduce what you love. (€: Pay what you want).
Friday, Feb 13th 2015
The Jaunt book presentation @ Kapitaal
Combining art and travel the book consists of prints based on trips artists made and the creative inspiration they got from these trips. Tonight two of these artists will take U with them on their trip. (FREE)
Saturday, Feb 14th/ Sunday, Feb 15th 2015
U ARE HERE magazine x NEST.
We'll (re)presenting some of Utrechtse finest initiatives, events and products this weekend. Some well-known some brand new. Tell us tell U all about what's great in and about Utrecht. Thanks to NEST we'll open this a great shop in Hoog Catharijne.
Monday, Feb 16th 2015
Comedy Night @ Hofman Cafe (Performances in English!)
Stand-up comedy by performers from all around the globe. Super charge your week with a laugh on Monday. All performances are in English (€ 7,- > 15,-)
Thursday, Feb 19th 2015
EHBO/ FIRST AID for volunteers by KEES
Ever wondered what to do when working at a festival and need to perform fist aid? KEES will tell you all about what to do in case of an accident. NOTE: This is not an official first aid course!
Friday, Feb 20th 2015
Opening BRAUHAUS by Koffie Leute @ DRUK
We've introduced them in this second edition of the magazine, they open(ed) their doors on Feb 10th already, but of course this NEEDS an official party, Right? Well, this is it!
Opening De Winterkas by NEST @ Utrecht Science Park
Breath in freshly produced oxygen at De Winterkas. A month of inspiring lectures and of course produce starts Friday February 20th. From the organization behind other great ideas like De Daktuin. Free entrance!
Album release My Blue Van @ EKKO
Utrecht based bluesrock trio My Blue Van are taking it to another level. After the release of acclaimed EP "As Colours Change" their album "Hush" will probably mean their nationwide breakthrough.

MONDAY: JOB OFFER DAY

Every Monday we show you some of the coolest jobs on offer in Utrecht. From internships, work experience positions to paid fulltime and parttime jobs. Are you looking for a job, a great new challenge, a way to spend more time helping out others? Check out what's on offer. Here's MONDAY: JOB OFFER DAY.
Lef koffiecoöp is looking for a barista.
Festival Tweetakt/ Kaap is looking for volunteers (work experience)
KEES is looking for those who like production/ communication (work experience)
Restaurant Vaartsche Rijn is looking for a cook
Speck Bar & Grill has multiple job openings
Fonds voor Cultuurparticipatie is looking for an advisor
Utrechtse Introductie Tijd has two job openings
Also check these websites for Utrecht jobs:
MATS (traineeships)
KEES (work experience mainly at festivals)
Are you looking for staff for your business, let us know!
Send us an e-mail and tell us. We'll be happy to pass on the info on (the next) MONDAY: JOB OFFER DAY
Missed the previous edition, check it here:

Never miss an edition of U ARE HERE magazine? Subscribe: